TIGRES TV EXCLUSIVE INTERVIEW WITH NEW MANAGER MARCO VEDDI
Tigres have been a club that have always been steeped in drama. From their underdog performances against stiff opposition they quickly gained a reputation for being a club that would have a never say die attitude. But since their promotion things haven't all been smooth sailing. Contractual upsets , boardroom reshuffles ,player clashes in the locker room and with these tempers flaring is Tigres time going to be anymore stable under Marco Veddi a man renowned for his hot temper and harsh words and unorthodox managerial style.
Interviewer- Marco nice of you to take the time to speak with us here on Tigres TV.
Veddi- No problem
Interviewer- Well its certainly been a season to remember as a Tigres fan. Not only have you arrived you have attracted alot from the states. With a spotlight with you Portugese football and certainly Tigres have profited from your arrival.
Veddi- I wouldn't really say im the reason the portugese DTL has gained alot of interest from overseas but im sure Sion would say he knows who the real draw is.
Interviewer and Veddi both laugh
Interviewer- Well Marco lets talk about your appointment as manager of GD Tigres. Did you intend to venture back into management? Or was it something that just presented itself to you?
Veddi- Well i had the itch. Once you manage one club no matter what team you go to afterwards you always look around at it from a managers perspective and think I still got this urge to succeed. To lead. And for me ive never been a sheep so the chance to lead this team and hopefully turn Tigres around felt like the perfect time to show the fans I wasnt here for a year just to get a paycheck nor was it a publicity stunt but more of a urge to be in the game and show my worth.
Interviewer- Well you certainly have that. Although you have yet to score you have been a constant threat to teams with you pin point passes and you and Sion now with the hatchet buried look unstoppable. What should we expect next?
Veddi- Well see that's it. Expect the unexpected. My style has always been to take people out of their comfort zone. To make my own style. But most importantly to get the most out of my team. So each formation will be picked with the team we play that week in mind.
Interviewer- So for Tridente coming up what should the fans expect.
Veddi- Goals. We are certainly going to score goals that's the mindset. Sion myself and Jai went to game last week. Tridente looked good but we are confident we can control the pace and flow of the game and choke out any attacks they throw at us.
Interviewer- well its good to be confident but without a win to Tigres name this season what do you expect to be the key in turning this nightmare season into a dream.
Veddi- the key for us is to be like a wall of roman soldiers. Roman soldiers could withstand hours of attack while in formation. Their wall solid no man out of place its that disapline we are bringing to our play. Lucas has really impressed me with his work ethic and he will be playing somewhere a little new this weekend. Jai has been absolutely brilliant to work with. He has a great work ethic also but he knows how to organise a back line and keep strikers in arms reach.Nike is an old buddy of mine and hes been showing off his slight of hand style he likes to play he's a wizard watch him cause he will create some magic.Bruno as well he has been just rabid with his tackles and he is sure making a name for himself.
Interviewer- Thats all good Marco. Just need to ask why give Sion the captains armband?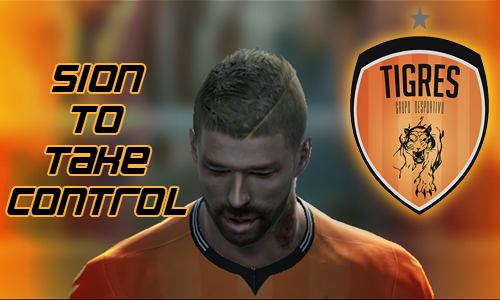 Veddi- Sion is one of the hardest working players ive ever played with he is everyday perfecting his technique. But he is a leader like me. He will keep the teams head up when we need it most
Interviewer- Last Question why did you release Guilherme from your squad.
Veddi- Like I said just a second ago you need to be bought into the ethos of the club. Be as one a unit. It doesnt work if one person thinks he is a singular enitiy. Thats about as politely as I am prepared to put that.
Interviewer- Predictions?
Veddi- If we play as we have in training I can see us picking up a win but we need to be in control the entire game no lapse of concentration.
Interviewer- Thanks for your time we here at Tigres and the fans will look forward to the big game.