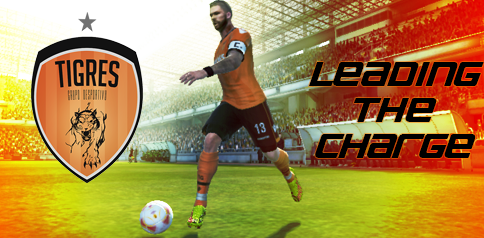 TIGRES TV interview
The footage plays showing Tigres recent form. The flowing play and deft touches and build up to goals make it almost propaganda like show reel of this teams true potential. Veddi walks into the room with a dimmed light with Tigres logo lit up on frosted glass.
Interviewer- Welcome back Marco to Tigres TV
Veddi- Yeah man nice to be here.
Interviewer- Let's talk possibly the turnaround of the season. Tigres playing like championship contenders.
Veddi smirks
Veddi- Yeah the guys have really adapted well to the new style of play.
Interviewer- It seems since you have taken the helm the team has really levelled out and going in the right direction.
Veddi- We are really working hard. Lucas has really adapted to his new role in the squad and is showing himself to be a vital player. Rodaz is working hard along with Jai and Bruno they have been great in getting the lads motivated. Sion's leadership has been vital in keeping the teams focus on sticking to the plan. We have a new found hunger, direction and passion and we are channelling that forward like an arrow. But in all we are doing great. Our style of play now isn't hit and hope but more systematically designed to pick apart a team and exploit their weakness.
Interviewer- So how did you do it?
Veddi- Well I can't take full credit we are like a family on this team. Sion …and I never thought I'd say this has been like a brother to me. Jai has really helped me understand the league in more detail and Nike coming into the team. Well it's nice to be surrounded by guys of high quality because when they play well they really make you up your game.
Interviewer- Speaking of that….two games…two one on one's with a Goalkeeper. Two misses shouldn't you be leading by example?
Veddi-Well last night I was just settling down to watch tapes of our next opponents when I get two text messages one from Sion with a picture of the side of a barn and the meme title can you hit this?
Interviewer- Hahaha
Veddi- I know he's a right (BEEP*) The second one from Nike with a picture of a L plate and the meme saying come under my wing. So today I was up at 5am and going through drills working with shooting drills etc so I gotta score this week or its gunna get worse ( laughs )
Interviewer- So your promising goals for next week.
Veddi- You trying to nail me to a commitment?
Interviewer- yeah!
Veddi- fine I'll score this week on the provision you do a lap of honour naked at the final whistle.
Interviewer- Deal!
Veddi- (BEEP) You! I guess you think I'm not gunna score. Well it's a lap for every goal time to get a hattrick.
Interviewer- So Marco what's next for this team?
Veddi- We are ready to up our game further and claim some scalps along the wall. Olympia embarrassed us with a three nil hammering we are fixing for some payback. Mark my words this will be a game you won't wanna miss!!
Interviewer- Really we are looking to it as our the fans.
Veddi- Just keep your eyes peeled for a major announcement this week. This will further cement our intention to contend for the league title.
Interviewer- Looking forward to it!!!